A breakthrough for outdoor adventures with the latest technology and the most innovative features.
New York City, NY — Indwell takes outdoor activities to the next level with its latest product, KEEP IT COOL, a portable 2-in-1 air conditioner and cooler. Air conditioners are one of the crucial devices which have to stay cool during hot summer. Large models of air conditioners are expensive and take up a lot of space while portable models like Indwell are compact-sized devices that keep your room temperature pleasing, even outdoor experience pleasing. It has everything one needs for a revolutionary camping experience, such as a large capacity built-in cooler to help quench your thirst and a powerful air conditioning system to keep you cool – all in one single product.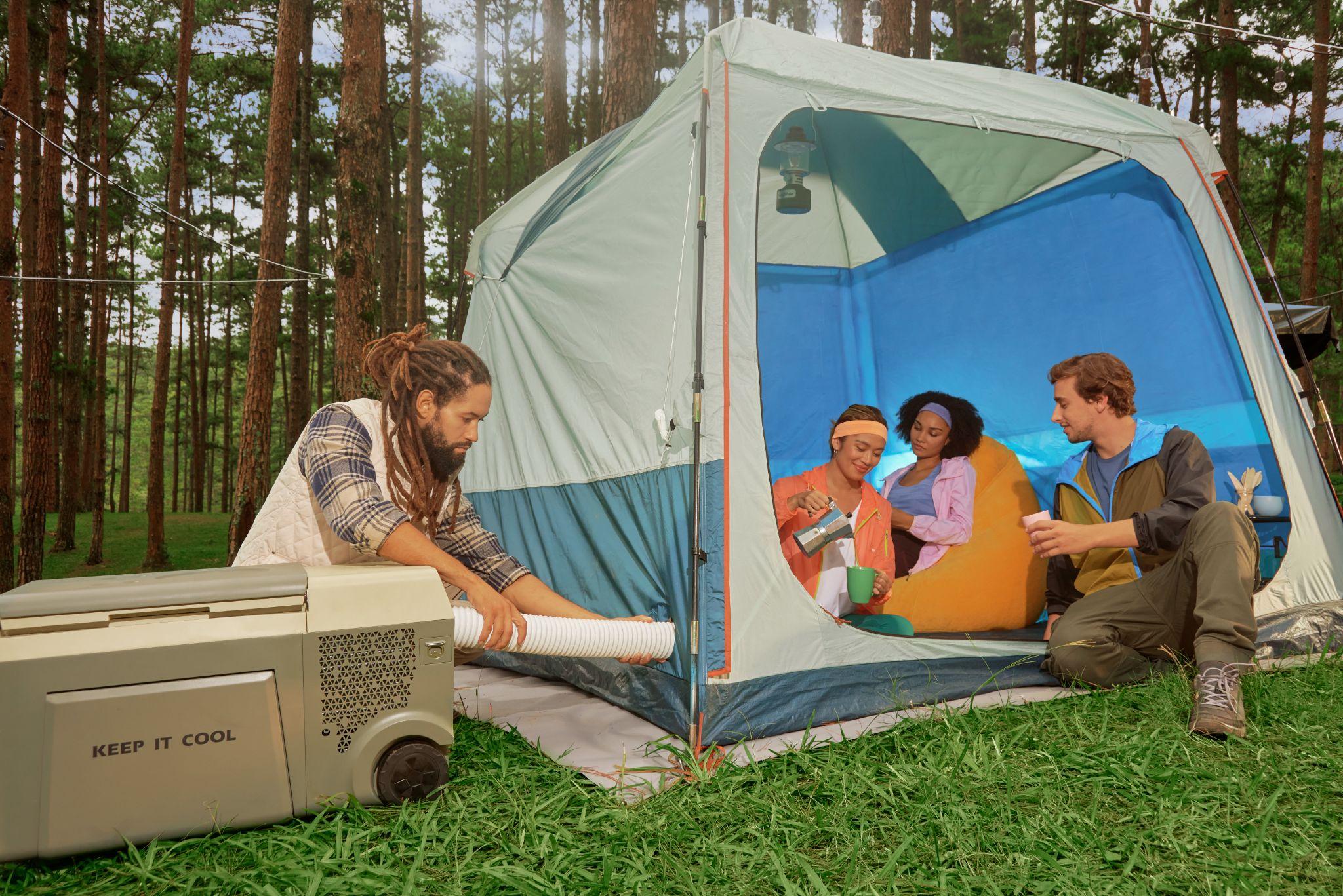 As an emerging company in the global air cooler industry, Indwell plans to launch KEEP IT COOL on Indiegogo, a crowdfunding platform. Jerry Chen, the founder of Indwell, came up with the idea of developing a 2-in-1 air conditioner and cooler during one of his many outdoor trips. In 2004, Chen and his friends from around the world explored the outdoors in Idaho, USA, and had a great time. The only problem was that the temperature was too high. And half of the cooler they brought was full of ice, resulting in less storage space for the food they could enjoy on the journey.
"I want to create a great product so that people can enjoy themselves and nature while feeling as comfortable as they are at home," says Chen.
After leaving the United States, Chen returned to Asia to enter the manufacturing field. With over 17 years of experience in the electrical industry, Chen has developed the perfect solution for people to enjoy nature while staying cool during hot summer. Together with his creative team, Chen invented the world's first portable 2-in-1 air conditioner and cooler, which was considered as the beginning of the company's mission.
Convenient With Multiple Safety Protections
Safety is the priority for Indwell. In the event of a power failure, KEEP IT COOL has an intelligent memory, which retains the last setting and resumes power-on at the next set state. The product has integrated overvoltage/undervoltage protection and compressor protection to ensure users' safety for outdoor use. KEEP IT COOL is equipped with a DC compressor, which enables fast cooling and keeps the necessities fresh and nutritious. In addition, it offers energy savings with low energy consumption. For users who enjoy hiking, fishing, and camping, KEEP IT COOL has a large-caliber detachable windpipe that can be easily connected to the inner tent and keep the air cool.
Indwell Main Features
This portable 2-in-1 air conditioner and cooler has:
A high-performance compressor.
Fast, controlled cooling and does not need ice.
A 40L ultra-large inner space.
A low noise level when operating.
IPx4 waterproof coating for most weather conditions
A handle and pulley, allowing the machine to move around with ease.
A power-off memory that maintains the setting in case of power failure.
A large-caliber detachable windpipe that can be connected to the inner tent and keeps the air cool.
Multi-grooves to provide extra space to place the tableware.
Supports an AC power adapter, a cigarette lighter outlet, and a mobile power supply.
About Indwell
Indwell is a technology-oriented company that aims to provide people with more convenient outdoor experience. The company's collaborating manufacturing factory is over 200,000m2 in size and has over 4,000 employees, focusing on manufacturing portable refrigerators, portable air conditioners, washing machines, and microwave ovens. Moreover, 90% of the components and parts, as well as all metal and plastic parts, are produced on-site. Additionally, the factory is a fully equipped CNAS lab with an Enthalpy difference room and noise test room as well as the ability to perform ROHS tests, general safety tests, life tests, and other relevant tests. Furthermore, the well-qualified factory is certified with ISO 9001/14001, QC 080000, and OHSAS 18001. Indwell is expecting to bring more handy and environmentally friendly outdoor equipment to achieve the goal of helping people improve their outdoor experience.
Contact Detail:
Company Name: Indwell
Contact Person: Media Relations
Email: Send Email
Country: United States
Website Url: https://www.goindwell.com/


Source: www.PRExhibition.com