06/22/2022 – Lutz, Florida: This week, Attenutech is proud to release a brand-new Non-Lead Dental Apron for their customers. As a front runner in the radiation segment, Attenutech knows the benefits its customers enjoy with non-lead aprons. Additionally, the new non lead dental apron is available with a wide range of colors and patterns. Therefore, this helps healthcare staff to express their style or put their patients at ease with relaxing colors. The Non-Lead Dental Apron is a lightweight lead-free apron that offers protection of 0.5mm Pb lead equivalency. This exceeds industry standards and requirements to offer optimal protection.
Also, this excellent Lead-Free Dental Apron is made of lead-free Nylon. This helps to keep the apron lightweight and durable. Additionally, the Non-Lead Dental Apron, provides protection to the wearer's chest, shoulders, neck, and thyroid during a radiation procedure. In order to ensure comfort, this Lead-Free Dental Apron also features a Velcro closure and includes hanging loops by the collar for easy storage on lead apron hangers or peg racks. This makes the lead apron simple and easy to maneuver for Attenutech's customers as they work throughout the day. The benefits of a lead-free apron can be sizable for many in the field that must wear them or work with them every day.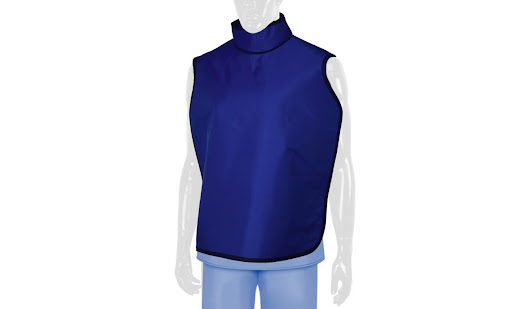 In fact, a lead-free apron is an apron made of a blend of attenuating materials other than lead and is a lightweight and non-toxic alternative to the traditional lead apron. Non-lead aprons use 100% nonlead attenuating materials to offer complete protection. These aprons combine comfort and exceptional lumbar support which will reduce fatigue and upper back stress during lengthy procedures. In fact, for those who wear traditional lead shielding gear on a regular basis, or for extended periods, the benefit of switching to lead-free could be life-changing. It can help to reduce musculoskeletal pain from the weight of lead materials.
However, both material options including lead and non-lead aprons are highly prevalent in the radiation shielding product market and in doctor's offices around the world. Therefore, medical professionals use their best judgment to determine their needs. For hospitals and medical practices, consider the volume of materials needed, the frequency of use, patients' opinions and of course, the preference of your radiologists and technicians. Head to Attenutech.com to check out the new non-lead dental apron and determine if it is right for you! Then, head to Attenutech.com to check out the entire dental apron collection today!
About Us:
AttenuTech provides radiation protection products for physicians, techs, nurses, and staff who utilize Fluoroscopy for imaging procedures. At AttenuTech®, we are dedicated to implementing the best radiation protection in high-risk surgical environments. With a manufacturing presence in the United States and Europe, we guarantee the highest quality of products and services in the radiation protection industry. We provide affordable and applicable solutions through state-of-the-art technologies and modern equipment. All AttenuTech® products are CE Certified, and manufactured with strict adherence to applicable laws, standards, and regulations, assuring the highest levels of protection, confidence, and quality.Contact Information:
AttenuTech®
Like us: https://www.facebook.com/attenutech/
Follow us: https://www.instagram.com/attenutech_radiationprotection
Retweet us: https://twitter.com/attenutech
Contact Detail:
Company Name: AttenuTech®
Contact Person: Ryan Phillips
Email: Send Email
Phone No: +1 813-909-8330, 1-800-757-2703
Address: 24008 State Road 54 Lutz
State: FL 33559
Country: United States
Website Url: https://www.attenutech.com/


Source: www.PRExhibition.com